KITA SURF RESORT - SIMEULUE
Kita Surf Resort is located on the edge of a small beach of white sand and a translucent fresh little creek, in the middle of the coconut trees, in a majestic natural environment.
From the point of view of the surf Kita Surf Resort has a very consistent break at the front, producing some of the best barrels on the island on small swells. We are the only one who can access to this break so you will always surf by yourself there! There are more than ten spots within a 5 to 15 minutes ride by bike.
These spots work according to different conditions, which ensures an almost permanent good quality surf!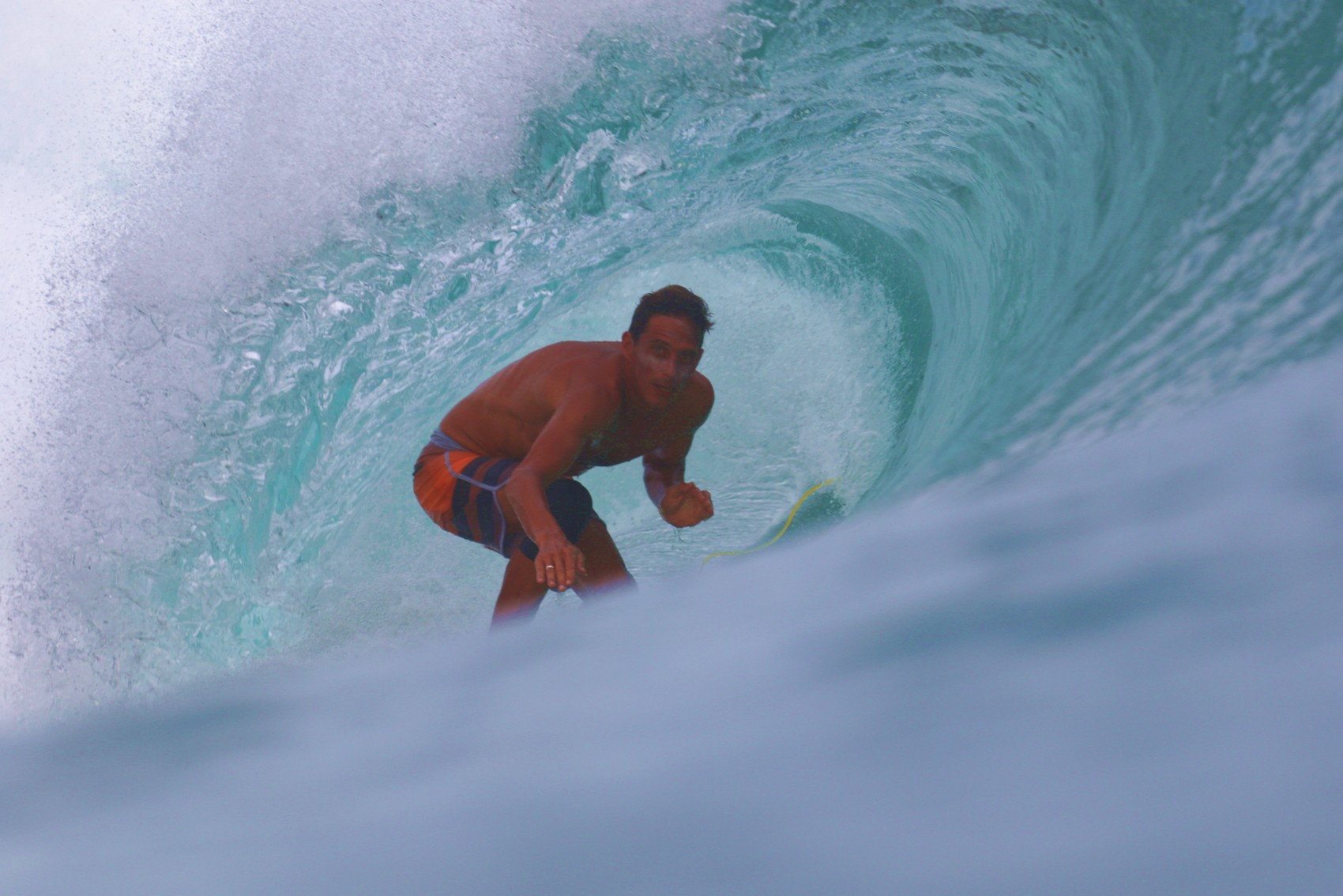 SURF SPOTS
Dylan's: 15 minutes from Kita Surf Resort, it's an hollow right hander wrapping around a point. Heavy over 4-5 ft. Fun under 4 foot. It's kind of a small lagundry in Nias, shorter but hollower and less crowded!
The peak: Located 30 minutes from Kita Surf Resort. It's an hollow A-frame peak. The left is better with two hollow sections barreling over 3 foot. A goofy footer paradise. This is a swell magnet.
The school: An hollow righthander wrapping around a point with some nice barrels when it's on. Located ten minutes from Kita Surf Resort
Batu lalang left: A long lefthander barrel. Fun when it's small, with a good wall for turns. Heavy when it's bigger with a 100 meters long barrel. For very good surfers over 4 foot. All levels when it's smaller
One thong: A fun lefthander with a nice wall in a beautiful, wild set up. Works with a very small swell. Never flat. 10 minutes from Kita Surf Resort.
The beachbreaks: A five kilometers bay, 10 minutes from Kita Surf Resort. Some good, virgin sandbanks with hollow waves. Heavy over five foot. Rights and lefts. Good to change from the reefs and throw some airs. Very fun on a bodyboard too. Some more beachbreaks up north suitable for all levels.
Tea bags: On Teupah island,1 hour away with a local boat, a challenging righthander wrapping around a point. The offshore deep water trench gives a lot of power to this wave wich can be heavy. Handles over triple overhead. The heaviest wave around. Good surfers only over 4 foot!
Thailands : 30 minutes down south from Kita Surf Resort. A left hander which holds big size with a short boat trip to access. Easy take off. Beautiful clear water with coral heads under. for all levels.
-Wholesale prices are only available if booked through Adrenaline Chain Ecosystem-
Pay in ADRX token to achieve the net rate:
go to Waves Platform https://wavesplatform.com/technology/wallet to buy WAVES token.

Once you have WAVES token go to the Waves Decentralised Exchange (DEX) and purchase ADRX / WAVES pair. Click the search function and type in ADRX to locate the ADRX / WAVES pair.

Send the equivalent of USD in ADRX to Waves Wallet Address 3P3BK3kEgeMk8XZJ3kgZAuaN6VTKiLu5Yj3

Email the TX status proof of transaction to info@adrenalinechain.com
For help through the process please email us we are happy to help. How to receive Waves using credit or debit card
Our low cost website is one of the ways we are able to provide wholesale rates directly to the consumer.
We encourage our customers to contact the operator directly to clarify details, but please remember the discounted price is only available if booked through our system. The operator will not provide wholesale prices direct to the public.
HOW TO GET THERE
KITA SURF RESORT is located 15 minutes from Lasikin Airport on Simeulue
To arrive here you'll have to take a flight to Medan on North Sumatera. Then fly to Simeulue with Wings Air. It costs around 130 USD for return flights, boards included. They fly everyday at 1 PM and return to Medan around 3pm. Make sure you get minimum at least four hour between your flights, Wings Air is never on time unfortunately.